Spokane Public Schools Foundation Board Unanimously Supports SPS Levy
Jan 14, 2021
The Board of the Spokane Public Schools Foundation (SPSF) has unanimously voted to support the Spokane Public Schools (SPS) Replacement Levy. The Replacement Levy supports basic education programs that are not funded by the state.
"Our Foundation works closely with the school district and we understand the real need for this Replacement levy," said K.C. Constable, SPSF President. "We urge citizens to continue to support this recurring levy, as it has in the past, as it is a very wise investment in our children's futures," Constable said.
Election day is Tuesday, February 9, and ballots are now beginning to be mailed to citizens.
This Replacement Levy will support critical services such as nurses, counselors, behavior specialists, student intervention programs, special education needs, technology support, smaller class sizes, and custodial and maintenance staff. It also will pay for other programs and extra-curricular activities such as English Language Learners (ELL), elementary specialists, librarians, curriculum materials, advanced placement (AP), honors , athletics, music and art and drama, and afterschool clubs.
SPS is on a three-year levy cycle, so it is important to recommit to these essential services by the passage of this levy, even during a pandemic.
This levy will replace the expiring three-year levy passed by voters in 2018, and therefore will not be added taxes you are currently paying.
Here is a look at the historic SPS tax rate: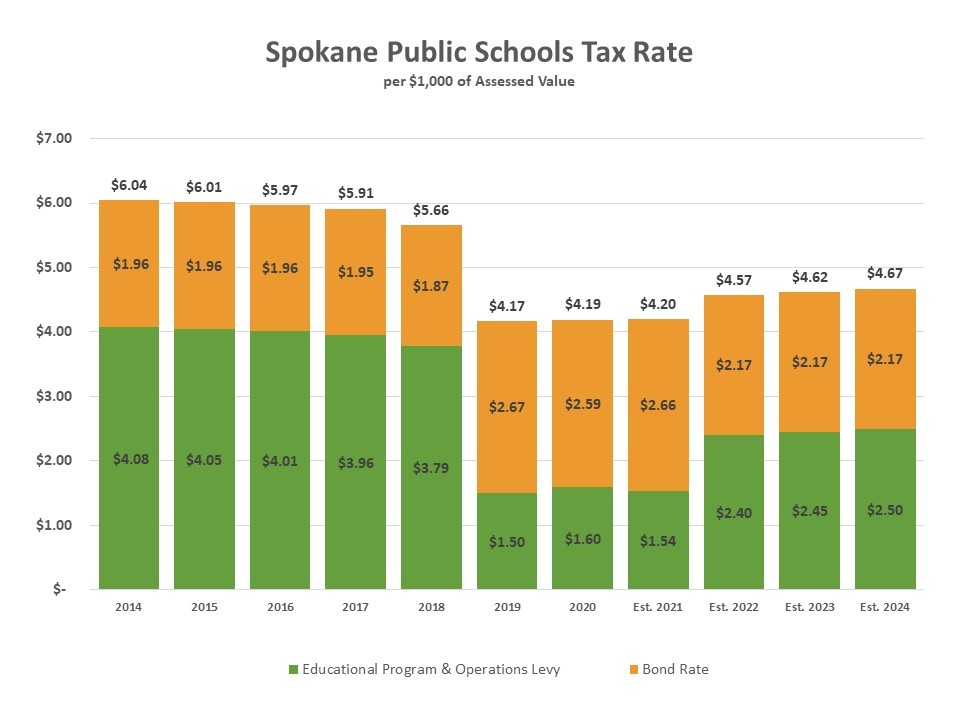 A table of estimated amounts homeowners have and could pay can be found at https://www.spokaneschools.org/site/default.aspx?PageID=4942.
Please join is in voting Yes for Kids!